Transmission in Athens, Greece: Bagkeion and Romantso BIOS 18.4 – 23.4 2016
Transmission in Karlsruhe, Germany: Orgelfabrik 12.4 - 24.4. 2016
Curation team: Fotini Xantzimichail / Iliana Natsou / James Simbouras / Kostas Voulgaris
The Transmission Festival new media exhibition introduced a dynamic curation, bringing together a series of international video-art works, while inviting the Athenian audience to explore aspects of local performance-art and new media. Contributing to the exhibition is producer, director and video artist Dimitra Mitsaki (Kolektiva Balkana, The Brother, Stray Dogs) with an original series of video-art works, which balance between the documentary and video-art documentation formats. Dimitra follows a group of artists from Greece as they prepare for their presentations and workshops in Germany, attempting to explore collective working methodologies and other local aspects, as they influence the artistic process. The exhibitions aim at presenting the public with a mapping of the important but often unseen contexts and environments that are behind individual's and collaborative projects, both Greek and international, proposing their viewing as open structures, in continual evolution and communication with the audience.
In the context of Transmission Arts Festival artist talks and screenings took place at Ρομάντσο Art Space and the Bagkeion exhibition space at the Athens Biennale, including contributions by artist Alyssa Moxley , who recently completed a residency at ZKM Karlsruhe, and Francesco Kiàis who is a member of the curatorial board of the VENICE INTERNATIONAL PERFORMANCE ART WEEK.
The festival included live performance and sound art presentations at BIOS art Space, the Bagkeion Biennale building, and interventions in the public space of Omonoia square.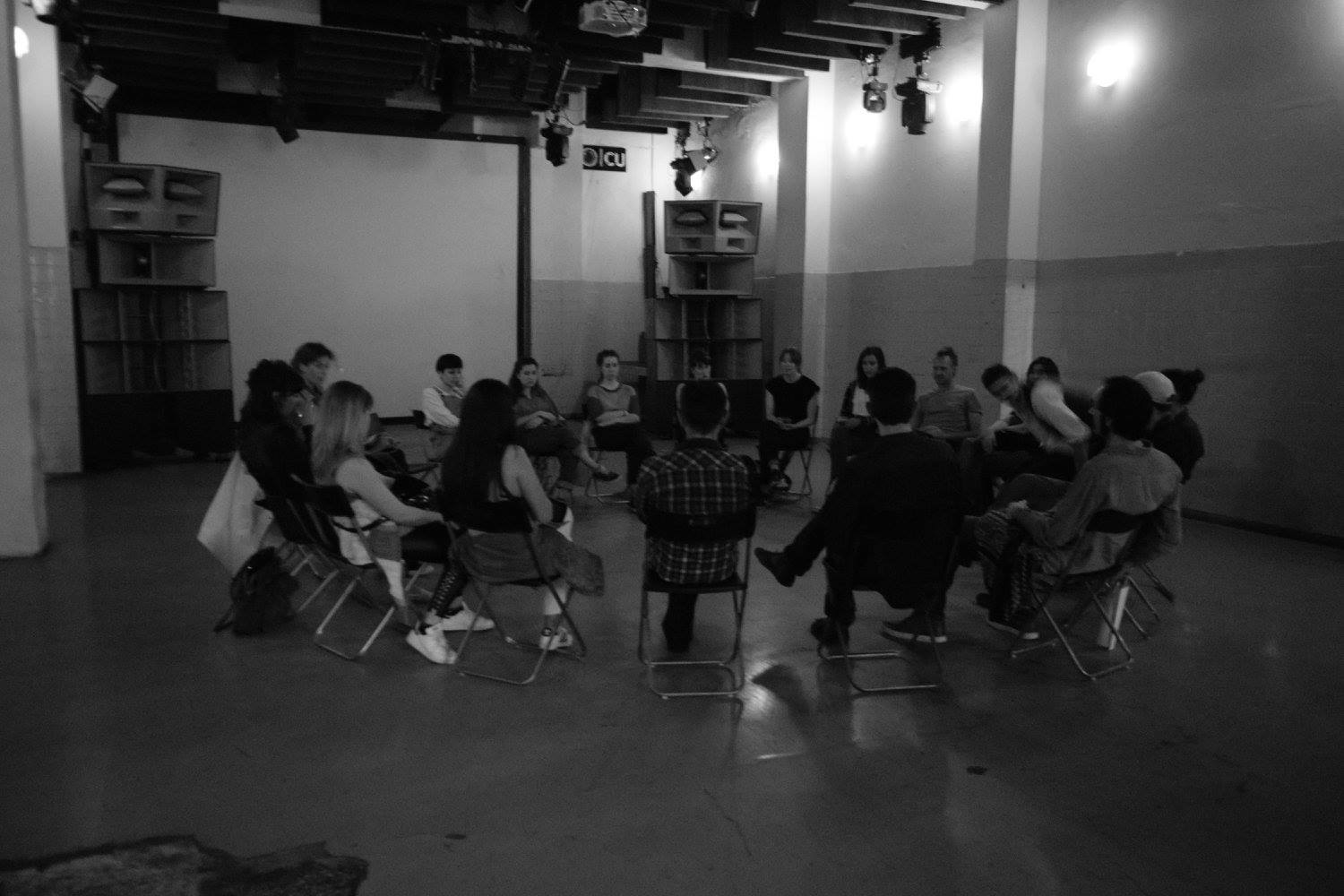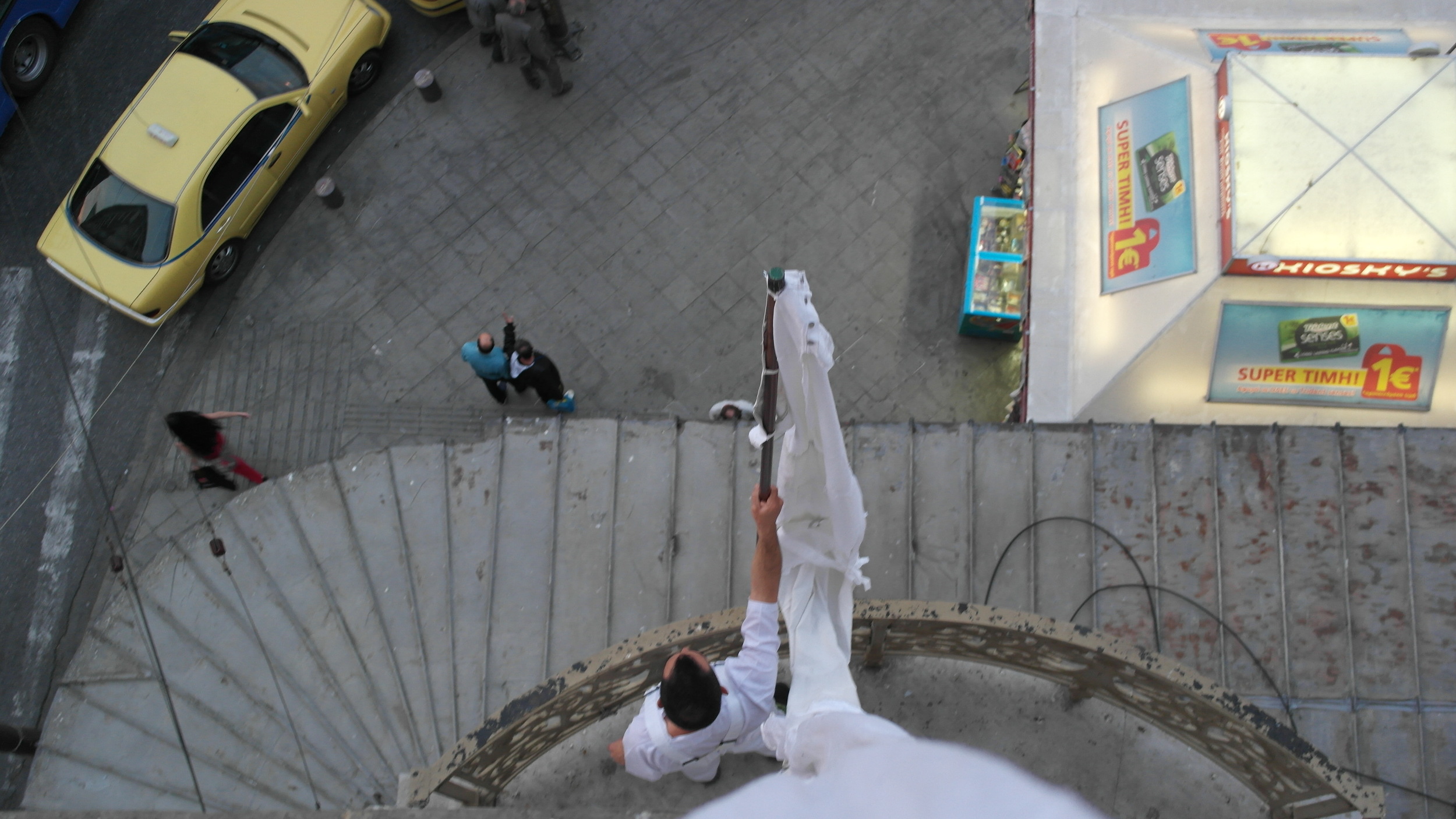 For the Festival, four artists from Greece (Filippos Vasilleiou, Iliana Natsou, Costas Voulgaris, Antigoni Tsagkaropoulou) traveled to the parallel Transmission exhibition in Karlsruhe in order to present a series of performance art works and workshops between April 14 – 17. Through the open workshops, the audience in Germany had the opportunity to engage with the participanting artists and their work, transforming the Orgelfabrik in Karlsruhe into a production space of new experiences.
Transmission Festival was made possible through the collaboration a series of partners: Stiftung Landesbank Baden-Württemberg, Baden Württemberg Ministerium Wissenschaft Forschung Kunst, Stadt Karlsruhe Kulturamt Kulturburo and Prolab, whom we thank greatly for their contribution!
Participating artists: David Loscher (DE) / Ursula Schachenhofer (DE) / Nina Adelajda Olczak (DE) / Αντώνης Αντωνίου (GR) / Alyssa Moxley (USA) / Θωμάς Διάφας (GR) / Φίλιππος Βασιλείου (GR) / Αντιγονη Τσαγκαροπουλου (GR) / Κωστας Βουλγαρης (GR) / Ηλιάνα Nάτσου (GR) / Φαιδωνας Γιαλής (GR) / Fatma Ergkioynker (GR) / Φώτης Kαραγεωργιου (GR) / Ada Birecka (PL) / Arijana Lekić- Fridrih (CRO) / Aline X & Gustavo Jardim (BRA) / Carla Chan Ho-Choi (CHN) / Corbett Fogue (USA) / Christina Werner (AUT) / Fabiano Mixo (BR) / Huseyin Mert Ervedi (TUR) / Ιra Konyukhova (RUS) / Jacek Ludwig Scarso (ITA) / Karolina Halatek (PL) / Katrine Holmgren (UK) / Jason Robinson (USA) / Jessica Servieres (FRA) / Fraser Stewart (UK-DE) / Keegan Luttrell (USA) / Liliana Piskorska (PL) / Mauricio Sáenz (MEX) / Muhammad Taymour (EGY) / Nadja Verena Marcin (DE) / Πάρης Λεγάκης (GR) / Thodoris Trambas (GR) / Ran Ancor (ITA) / Sandra Smirle (CAN) / Shlomi Greenspan (ISR-CAN) / Wu Siou- Ming (TWN) / Zoe Hugh (UK) / Γιάννης Παππάς (GR) / Antoni Rayzhekov & Katharina Köller (AUT) / Alyssa Moxley (USA) / Φαίδωνας Γιαλής (GR) /Φατμά Ergkiounger (GR) / Δήμητρα Μητσάκη (GR-DE) / Κώστας Βούλγαρης (GR) / Φίλιππος Βασιλείου (GR) / Ηλιάνα Νάτσου (GR).
Presentations: Francesco Kiais (ITA) / Fatma Ergkiounger (GR) / Alyssa Moxley (USA)
SPONSORS: